So we know what you're thinking, it's pretty difficult to find yourself without something to do in the Mediterranean clubbing paradise that is Ibiza, with amazing views, beach clubs galore and some of the best nightlife in the world. But we thought we'd be extra nice and give you a little extra help with 10 of our favourite spots to make your trip extra special!
#1 Craig David's TS5 Pool Party
One of Ibiza's most in-demand pool parties, hosted by the one and only Craig David, what more could you ask for? Hosted at the iconic Ibiza Rocks Hotel, you'll be given the ultimate VIP treatment, with specially selected tunes, plenty of drinks, and the chance of one of our special celebrity guests popping in! Love Island stars and some of the club scene's best DJs are known to make an appearance so keep your eyes peeled. You'll have the option to book VIP poolside beds with table service and a view of all the action. Check out our 2022 Events Calendar to stay updated and make sure to celebrate your summer in style!
#2 Zoo Project Opening Party
The Zoo Project is the absolutely banging jungle rave that you'll have to see to believe. With rainforest-themed decor featuring floor-to-ceiling vines and trees, as well as costumed fire breathers and of course a selection of local and international DJs, this is the perfect night to release your wild side. With a huge range of drinks, this opening party is going to be a night to remember, so you really don't want to miss out. Our Ultimate Events Package includes this event among many more, and if your decide to book your 2022 holiday with Party Hard, it's 100% FREE!
#3 Cave Cruises
If you ever fancy a break from the non-stop partying you may have planned and fancy introducing a little bit of mystery into your holiday, then it's definitely worth taking a look around some of Ibiza's breathtaking cave systems dotted around San Antonio! A guided tour will guarantee that you see everything to see, with some secluded swim spots if you like or even a casual spot of cliff jumping if you're so inclined! If you and your group like to make your own way, or just want to save your pocket money, just have a walk north from the town, they're hard to miss!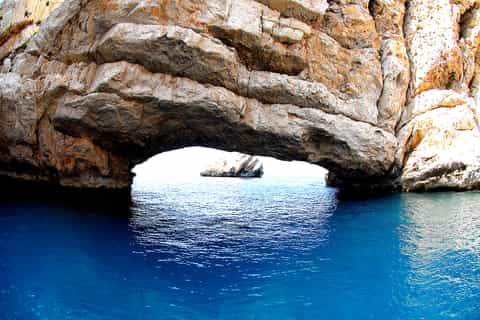 #4 The Old Town
This might come as a surprise to us, who know Ibiza as a party capital, but the old towns of Ibiza were at one point a Hippie Haven where bohemians from all over the world would come to enjoy the beautiful surroundings and chilled way of life! This one's another excellent change of pace from the non-stop partying of the strip- grab a bite to eat and browse the numerous small businesses, even take a couple of Insta-friendly snaps as there's no shortage of lovely spots for it. That's not to say there's nowhere to grab a hair-of-the-dog cocktail if you're feeling rough from the night before!
#5 Ushuaia
Located on Ibiza's popular east coast, Ushuaia is a 5-star beachfront club and hotel where you'll receive the treatment you know you deserve! With recently updated chic bedrooms, a gorgeous pool and a selection of bars and restaurants, you'll get a luxury vibe that's hard to replicate anywhere else.
As far as the club part of its name, Ushuaia has a whole lot to offer. It's renowned Europe-wide for its wealth of parties both day and night, and frequently have guest appearances from international DJs from Eric Prydz to Annie Mac. Close by to the venue there are plenty of great bars so you'll have zero trouble getting the pre-drinks in!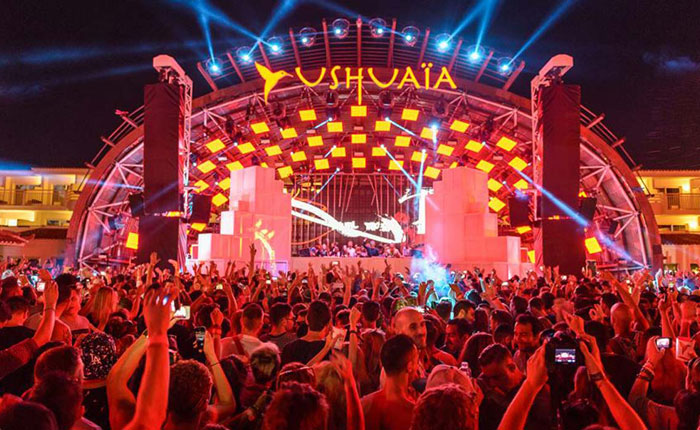 #6 Beach Clubs
Beach clubs are one surefire way to spice up your Ibiza holiday and really take your trip to the next level. Soaking up rays with your cocktail of choice, be it a Strawberry Daiquiri or an Espresso Martini by the poolside isn't something you can complain about, especially while local DJs play some special selections over the course of the day.
One of our favourites here at Party Hard is O Beach which is just a 20 minute walk or a 5 minute taxi from the main strip of San Antonio. To call O Beach an Ibiza institution would be an understatement as it's absolutely iconic and has been one of the best known spots for generations of Ibiza partiers. You'll be spoilt for choice on what to do, with an absolutely massive pool and a variety of bars & restaurants with various cuisines to choose from.
If you're looking for a balance between beach life and club life, O Beach has you covered, with a variety of entertainment options all summer long, from International DJ talent to dancers and acrobats! Be sure to check this one out if you want the best that Ibiza has to offer, all in one place. It's also included in our Ultimate Events Package!
#7 Curry Club
Even if you're thousands of miles away, there's no need to leave the classic Friday night curry at home once you've jetted off to Ibiza! Located right in the middle of San Antonio, Curry Club is on your doorstep and sure to give you that comfy, at-home feeling.
Obscured by beautiful plant life and lit up purple at night, the restaurant has a cosy, authentic vibe inside too with gorgeous Hindu and Buddhist decor as well as candles decorating seemingly every space they can fit.
There's also a very reasonably priced meal deal consisting of a main, naan, rice, poppadom and a drink, with plenty of veggie and vegan options available and friendly staff who'll tell you all you need to know.
#8 Es Vedra
This one is definitely for those of you looking to level-up your Instagram game! This rocky island rises up from the depths of the Mediterranean with a fantastical, mystical vibe and is a great spot for anyone looking to get in touch with their spiritual side. The local myth is that Es Vedra is the tip of the lost city of Atlantis… Whether you think this is fact or fairytale you're guaranteed to feel at least a little inner peace and escape the hustle and bustle of the strip.
#9 Cafe Mambo
Another of our most Instagrammable spots in Ibiza, Cafe Mambo is a beautiful beachside pre-party bar right in the middle of San Antoni. You'll want to get there before 6'o'clock before the crowds arrive to watch one of the most beautiful sunset views you're likely to get on your holiday. You're also allowed to bring your own drinks so if budget is an issue feel free to nip to the corner shop close by- just like being back at home!
If you happen to be here with us on the first weekend of August, Mambo is also hosting Radio 1's Ibiza Weekender event so make sure to grab your tickets!
#10 Las Salinas
PPlaya d'en Bossa, a popular resort on the other side of Ibiza, plays host to the absolutely stunning beach of Las Salinas. With soft, white sand and turquoise waters, you'll get the best of both relaxing beach vibes, and a little bit of party- there's a couple of bars dotted along the beachfront that will keep your drinks topped up. This lovely beach also has the reputation of being a great location for a bit of celeb hunting- although that can mean it's a little more expensive in places so if you're looking to save your pennies then make sure to pack your own snacks and drinks!