So maybe you're heading to Zante for the first time, or maybe this isn't your first rodeo. Maybe you're even thinking about becoming a rep for summer 2024? Well even if you're curious, here's some tips and people with real experience of being a rep in Zante!
Thirsty Work
When you're helping to run up to 11 different events each week, it can be quite fast paced but it's still so much fun! Even though you're working, it doesn't feel like a chore because you still get to experience the event on some level. Your favourite songs, a couple of drinks here and there, and having a little dance when you have the chance. Drinking is fun but you don't want to be drunk on the job. Plus, you'll get dehydrated from a drink, and also from all the sweat. Gross, I know, but good to know about!
Behind the Scenes
It's always quite exciting to be setting up an event that you're really looking forward to. You just want to make it the best it can be for all the people who have paid to come. One of my favourites was 'Welcome to the Jungle'. We'd get to fully decorate the venue, Sizzle Club, and prep for everyone to arrive. My role would also involve speaking to the venue owners about numbers and times for events. Everyone was friendly and it's a good chance to meet some of the locals and really feel at home!
Star Struck
After finishing the club set up with the team, it would be time to go and collect the artist from the airport! I always got nervous on the way to getting an artist. It's like I almost felt star struck. However, after the first couple of times it became normal! We had big name DJs such as Molly Collins, Nancie, Meduza, Weiss, Macky Gee and more playing at Jungle every week. Having such big names, Jungle was almost always sold out or super busy as everyone wanted to see the artist. This meant the atmosphere was always enjoyable for our guests and us as staff too.
Have Some Fun!
Even though you have your tasks and responsibilities, it's important to remember not to get too stressed out. You're still able to enjoy yourself and have fun. It's one of the best perks of the job – you're still working but in the best place you could imagine! Everyone's super friendly and the events are always a laugh. You'll have plenty of stories to tell by the end of it. I wish I'd taken more photos though – might be a good tip for anyone coming next year!
Progression
One of the best qualities of Party Hard is the chance to progress in the company. I've seen people start as a rep in Zante and become Events Managers like me or Resort Managers. There's even the chance to move to the office team. You really feel like you're a part of the company and the values behind it. Also, once you've been part of the resort team, sweating your arse off at big events, you understand the hard work that goes into giving people the best week of their lives. There's just so much to learn and gain from whatever experience so it's really worthwhile. Whether you just want a job for summer or you want to be part of a constantly growing team.
Amazing Memories
Part of the fun of being a rep in Zante are the stories that you'll leave with, and these are all down to the people you'll meet. Everyone's coming to have the best time ever so spirits are high and fun is in the air. You'll see people come and go all summer but they're sure to make an impact. Through it all though, you and the other reps will be there the whole time. I've met some of my present friends through the experience and I'd recommend it to anyone. Especially if you feel at a loose end or don't know what to do next. Have fun, work hard and make a summer to last.
Top Events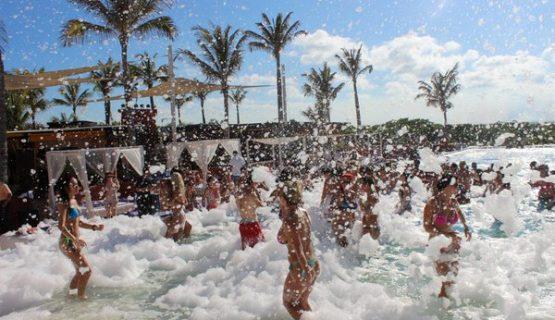 Some events that are always popular and go down well are 'Welcome to the Jungle', 'Champagne Sessions', the Boat Party and the Paint Party! If you're lucky enough to get to go, you'll be in for a treat. You only have to look at the photo gallery to see why they're so popular. After a day of planning or preparing these events, it's great to see it all pay off and everyone enjoying the fruits of your labour.
How to Apply
If you fancy joining the Party Hard Travel, rep team for summer 2024 in Kavos, just get in touch! Check out our contacts page here.