So you're all booked up for summer 2023? This is your time to just sit back and relax! Don't stress, here's a list of the best things to do in Magaluf. Fill your week with activities, clubs and cocktails!
#1 BH Mallorca Water Park
Starting you off with a splash, this amazing water park, full of extreme slides, flumes and extra activities! The brand new BH Mallorca Hotel is as photogenic as they come, and it's also home to this water park. Get actual video proof that you rode all 9 of their white knuckle slides and let the Insta likes come rolling in! This adults-only hotel is the perfect setting for an all-day pool party like no other. Sounds of the summer whilst flying down a slide at high speeds, what more could you need? Keep an eye on the website for updates on when you can book for summer 2023.
#2 Beach Days
Tanning on the golden sands is what we've all been dreaming of. Well you've come to the right place. Playa de Magaluf is right on the doorstep of the resort and it doesn't disappoint! Lined with restaurants and bars, you can take a break for some lunch or cheeky cocktails before heading back for more. Best to get there early for a trusty sun-lounger but we're sure you'll be fine with a towel (and plenty of suncream). Also try heading to Camp de Mar for a fancier beach experience. About 15 minutes from the main resort, it's worth the visit – especially when lit up at night. With warm and clear, blue waters, you'll be living the Mediterranean dream in no time.
#3 Beach Clubs
What's one better than a day on the beach? All that but with a cocktail in hand, on a VIP pool bed, listening to the best tunes of the summer. There are two tourist-favourites in the resort, the first being Nikki Beach Club – one of the most premier beach clubs in the world! VIP vibes, boojee cocktails and even a Mediterranean restaurant, serving up amazing fresh seafood and grilled meats.
There's also Ocean's Beach Club, home to the biggest pool parties of the summer, and influencer guest appearances. We're sure you'll become familiar with this one, seeing as they're hosting our 'Welcome to the Jungle', 'Summerfest' and 'Full Moon Party' events! You can get all these and more for FREE on our Ultimate Events Package, when you book your 2023 holiday with us!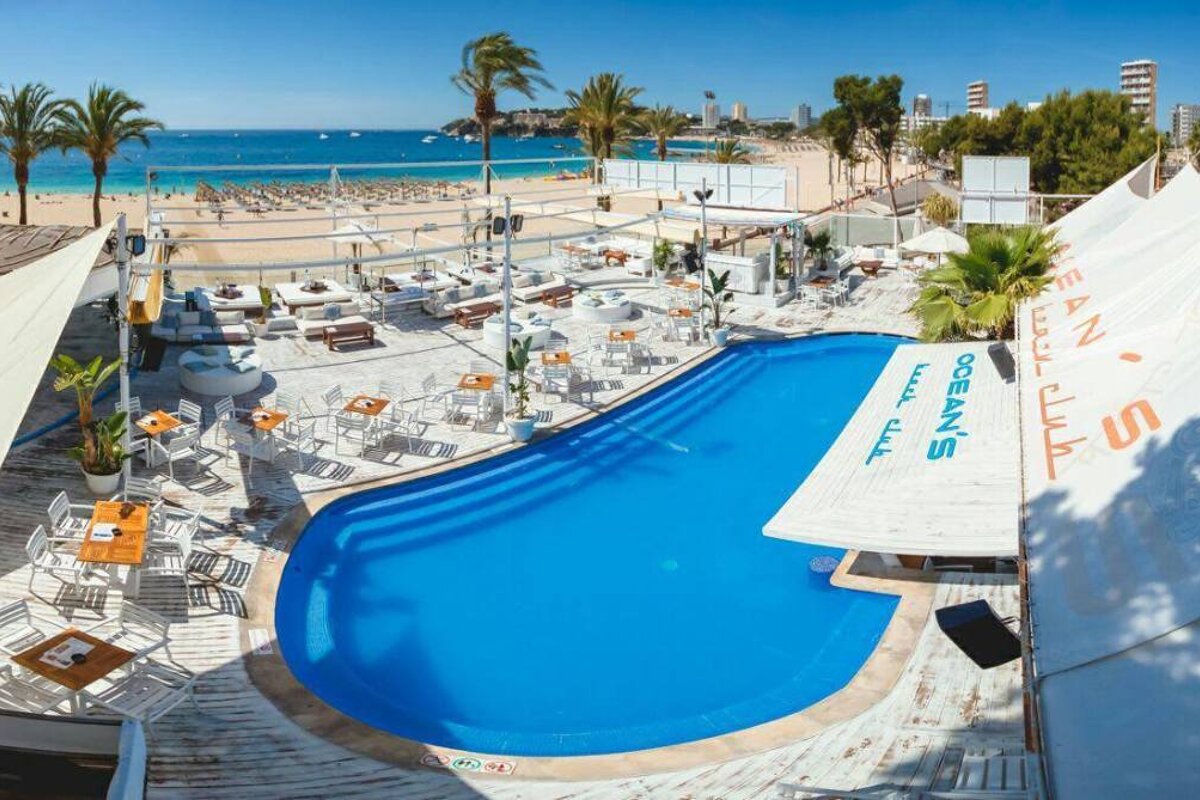 #4 Katmandu Theme Park
Got a day with nothing planned? Time to try something a bit different with this themed park. Located in the centre of the resort, you can't miss it – just look out for the upside-down house and you're there. Laser park, 3D or 4D experiences and themed-mini golf will keep you busy with your mates for the whole day. Tickets are around 17 Euros so you don't have to dip too much into that budget! And it's well worth it for a day of making fun memories.
#5 Beach Water Sports
Like any other of our amazing party destinations, you're never far away from fast and furious watersports on the beach! Head to Playa de Magaluf to check out what's going on. Jet skis, Banana boats, Pedalos and Paragliding to name a few. And Google knows everything, if you want to check any prices or availability. There's something for everyone here, whether you're a thrill seeker or not! No excuses to miss out.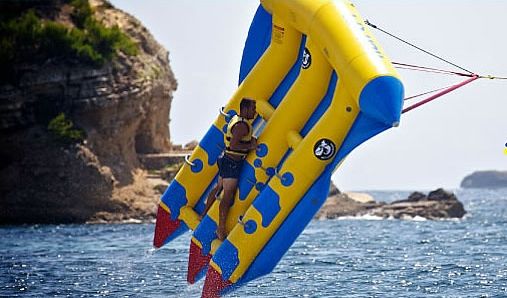 #6 Pirates Arena
As one of the most unique places to visit in the resort, head to the Pirates Arena for something a bit different! This pirate themed theater and restaurant can be found just a couple of minutes away from the main strip! Here, you can enjoy a Mediterranean meal with an amazing show. This is by far the most unique place to visit in the resort.
The Pirates Arena hosts a variety of events, including 18+ shows like "Pirates Reloaded". This action packed night full of acrobatic performances and a festival-like experience to remember! If you've booked our Ultimate Events Package, you'll have the chance to visit for "Gringos Bingo". Think bingo meets a rave – definitely one to make everyone at home jealous.
#7 Karaoke
Can't go wrong with some cheesy tunes and embarrassing yourself in front of your mates! If you've ever seen Coyote Ugly, you'll know to expect stunning servers, cocktails flowing and karaoke all night long. This is always a popular destination for hen parties and girl groups.
For group bookings, you can get a drinks reception, complimentary drinks and a private karaoke booth. Sing to your heart's content without anyone getting in your way! If you love a bit of karaoke, this is the place for you.
#8 BCM
BCM is an arena at the heart of the Maga nightlife and has seen some huge names throughout the years. Steve Aoki, Tiesto, and Snoop Dogg to name a few! With 15 bars and one of the best lighting sound systems in the world you'd be mad to miss out!
#9 Magaluf Club Pass
If you're not sure where to go on a night out, and don't want to blow the budget on entry fees, check out the MCP. This pass grants you free entry to 5 clubs, over 7 nights! Plus, you get 30 Euros Bar credit, and access to all the MCP events of the summer! The clubs include Bananas, Tokio Joes, Boomerang, Honeys, Carwash. Some of these clubs previous years guests include Scotty T and Lethal Bizzle, so watch out for the 2023 lineup! This is also included on our Ultimate Events Package so check it out!
#10 Boat Cruises
Would it really be a party holiday without shots, shots, shots on the waves? Absolutely not! Voted the Number 1 booze cruise at the resort, this is the place to be for a rave at sea. With DJ sets and swim stops, you're in for a real treat. There's transport provided there are back so don't worry about sorting a taxi. This is really one of the best things to do in Magaluf- the ultimate way to see the sights while keeping the party alive! Roll on 2023!